Omkareshwar Temple Pooja Cost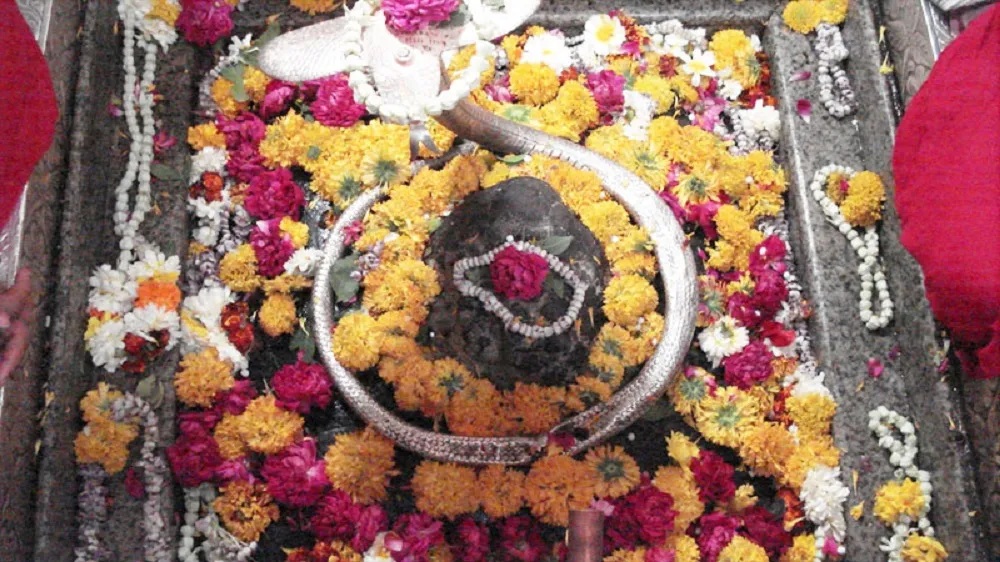 In this blog, we delve deep into the facets of the Omkareshwar Temple Pooja, unraveling the spiritual significance, cultural heritage, and the optimistic cost accompanying this transformative experience.
Join us as we explore the celestial realm of devotion, mysticism, and blessings in the revered abode of Lord Shiva – the Omkareshwar Temple. Discover the essence of this divine pilgrimage and its profound impact on the souls of those who dare to traverse this spiritual path.
1- Maha Rudrabhishekam at Omkareshwar Temple
This abhishekam is performed by reciting Rigveda, Samveda, Yajur Veda, and Atharvaveda in front of the Linga. Maha Rudrabhishek is also very optimistic when performed during Shravan Month. This holy pooja should take place on this day, which brings the blessing of lord shiva to oneself.
Cost:
The cost of performing the pooja is normally Rs.1100.
However, depending upon the type of pooja, i.e., 12 Rudrabhisheka, Ekadasa Rudrabhishekam Pooja, or Maha-Rudram Yagya, the cost can vary between Rs.12,000 to Rs.18,000.
It also depends upon the number of priests taking part and the time spent by them.
Time needed
Materials required for this pooja
Milk Flowers
Gangajal Fruits
Sugarcane Juice Betel Nuts
Fruit Juice Coconut
Coconut Water Wooden Asan
Panchamrit Camphor/Kapur
Clothes Matchsticks
Maha Rudrabhishek Benefits
This pooja is very beneficial to vanish the negativity from life and helps bring happiness and success.
This pooja also benefits a healthy mind and good spirit.
It also removes the problems prevailing for a long time.
The primary purpose of this pooja is to wash off one's sins and afflictions.
2- Laghu Rudrabhishek at Omkareshwar Temple
Laghu Rudrabhishek is an essential ritual in which the Panchamarit Pooja is offered to Lord Shiva. Nevertheless, this pooja is performed by experienced priests who recite potent mantras. Moreover, these mantras bring good luck and fulfill all the desires of the person who performs the pooja.
Duration  
Cost:
The cost of performing this Abhishek ritual varies from temple to temple, but it is usually around Rs. 5000 to Rs. 7000.
Materials required for Laghu Rudrabhishek.
Coconut Dry Fruits
Fruits Honey
Sweets Curd
Betel Leaves Supaari
Rice Cinamon Moli    
Janeyu Panchamrit
Roli Gangajal Gulaal
Dhruva Sindoor
Flowers Kalash
Ganth Bandhan Cloth Koosha
Laghu Rudrabhishek benefits
This pooja reduces the destructive effects of Ashlesha, Punarvasu, and Pushya Nakshatras.
It also reduces the harmful effects of the afflicted moon.
This pooja also helps improve leadership qualities and eliminates doshas in the individual's life.
3- Mangal Shanti Puja at Omkareshwar Temple
Mangal shanti puja is a Vedic ritual performed to eliminate or nullify the effect of the Mangal Grah. People with a malefic positioning of Mars in the horoscope may develop Mangal Dosh and face many obstacles and hindrances in their path to success. The Mangal Grah has an adverse effect on a person's marriage as well. To reduce the impact of Mangal grah, the Mangal shanti puja is done.
Cost:
Starts from: Rs.3599
Puja Duration
The puja samagri is included in the Dakshina.
Red Flower(लाल फूल), Coconut(नारियल), Betel leaves(पान के पत्ते), Betel Nut(सुपारी), Kumkum(कुमकुम), Sindoor(सिंदूर), Honey(शहद), Jaggery(गुड़), Sesame Seeds(तिल के बीज), Sweets(मिठाइयाँ), Incense Sticks(अगरबत्तियां), Fruits(फल)
Benefits of Puja:
This puja helps get mental peace and removes obstacles affecting the life of the devotees. It also helps in improving the relations between Family members and Friends. It eliminates problems from love life and married life, such as stress, estrangement, discord, or divorce. It also has health benefits.
4- Kaal Sarp Dosh Puja at Omkareshwar Temple
Kaal Sarpa dosh occurs when all seven planets come between Ketu and Rahu in a horoscope. Therefore, the person with such a horoscope is affected by Ketu and Rahu. This is known as Sarpa Dosha and is believed to have very adverse effects. To be free of these negative effects, the person must do the Kaal Sarp Dosh Puja.
Benefits of Puja:
Performing the Kaal Sarp Dosha Puja can help reduce the negative effects of the dosha, bring good health, wealth, and prosperity, and help the individual lead a more fulfilling life.
Cost:
2,000 to Rs. 2,500 for performing Kaal sarp dosh puja. It can also cost up to Rs. 5,000 or more.
In conclusion, the Omkareshwar Temple, situated on the serene island of Mandhata in the Narmada River, is a place of profound spiritual significance and devotion for devotees of Lord Shiva. The temple's unique location and architectural beauty make it a cherished pilgrimage site, drawing countless worshippers and seekers from all corners of India and beyond.
As you embark on your sacred journey to Omkareshwar, may your devotion be pure, your heart be open, and the divine grace of Lord Shiva touch your soul. 
Om Namah Shivaya!
About Author